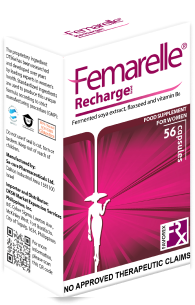 Femarelle®

Recharge
Femarelle® Recharge targets the symptoms that plague women during menopause. Hot flashes, night sweats, mood swings and sleep disturbances are symptoms most commonly discussed; however, a decline in sex drive, anxiety and depression that accompany women in menopause can also be of great distress and have an extreme effect on women's well-being.*
Relieves hot flashes and night sweats within the first month of use*
Promotes good sleep*
Restores sex drive*
Increases energy levels*
Balances mood swings*
Boosts energy and alleviates fatigue*
Name of Ingredient
Quantity/Capsule
Daily Quantity
(2 capsules)
% NRV
* Daily Quantity
DT56a
Dried powdered soy derivative
322 mg
644 mg
N/A
Flaxseed
Pressed and dried ground form
108 mg
216 mg
N/A
Vitamin B6
(as PyridoxineHydrochloride)
1 mg
2 mg
112%
* NRV – Nutrient Reference Value.
Other ingredients: cellulose capsules.
Recommended intake: 1 capsule, twice daily (morning and evening); can be taken with or without food.
Femarelle®
Rejuvenate
If you are in your 40s, and you start to see changes in your regular menstruation patterns, Femarelle® Rejuvenate is for you.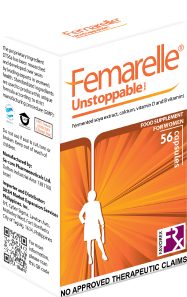 Femarelle®
Unstoppable
If you want the ultimate product to increase your energy levels, bone health, vaginal health, Femarelle® Unstoppable is for you.